check out my stuff!
Sarah coordinated a mail-in baby shower to coincide with my last day of work, so people blessed us all week long with gifts and good wishes.

I was going to take photos so it would be more like an interactive baby shower, where people watch you open presents and say "oooooh!" a lot, but it seemed kind of dull. From your end. It's endlessly fun from my end plus I can nap whenever I want without being rude to guests.

I was just gone for an hour. Did you notice? No!

Anyway, I tried to stage my own Top Model and dress the catt up in the clothes but he was too big for a lot of them, plus he doesn't like to wear clothes? Go figure? Thankfully, I remembered the puppy, (tentatively named Larry?) who is a recent acquisition (from my co-workers, last week) and is just the right floppy texture and size to pose as a baby, but with none of the flesh and blood and screaming that makes babies so difficult to pose on their own. ( At first I was actually unsnapping the snaps and putting the clothes on the dog as though it was real. Then I had a moment where I realized I could just yank the damn thing's head right through the neck hole because guess what! It's not real!) Plus I don't have a baby yet. Still just a giant, lumpy belly. Trust me, when the baby gets here, you won't be seeing pictures of stuffies in baby clothes.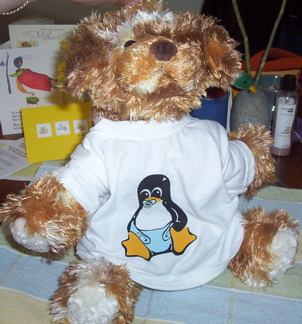 Here, (all images displayed on a fuzzy, fleecy blanket that was also a gift) Larry is wearing a Baby Tux t-shirt, perfect for babby's first Linux User Group Meeting with Papa while Mama stays home and has a much-deserved glass or two of red wine .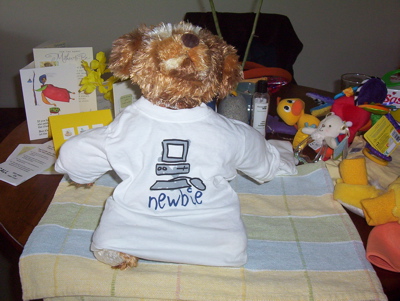 Dear Son or Daugher: When you're old enough to type, you'll be old enough for this outfit.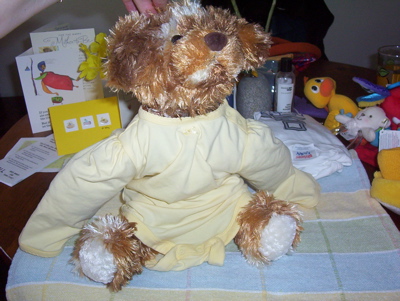 This yellow onesie was a little big for Larry, so some of the detail (like the bow at the neck) is lost, but I think the colour is quite excellent with his caramel fur.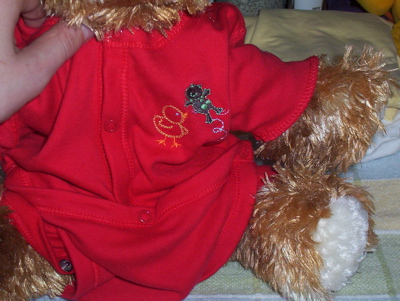 This closeup of the red onesie reveals a frolicking duck and frog. Adorable!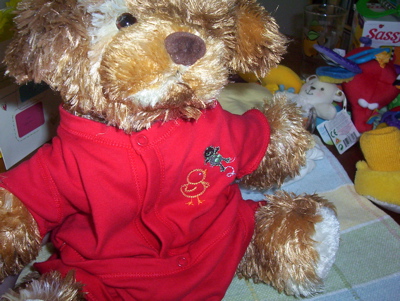 and it has adjustable bottom snaps for growth spurts.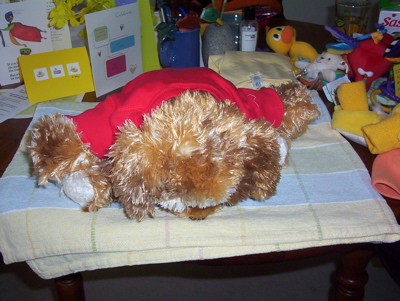 and it makes Larry want to do yoga.
Segue!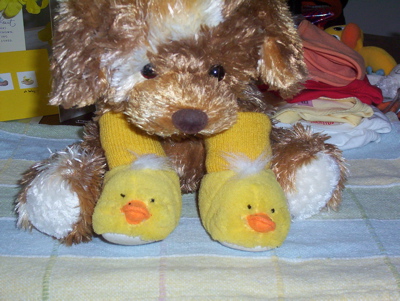 Eek! Baby Duck Slippers! (not made of real baby duck) They go perfectly with mine except mine are not probably going to survive another winter. I asked at a shoe store about re-soleing them and I still have the laughter ringing in my ears so I shan't try again.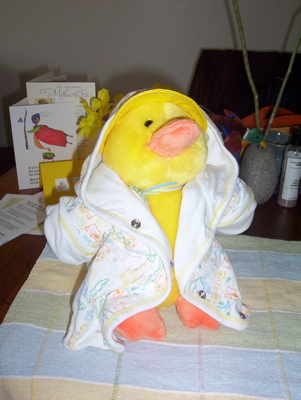 With the duck slippers came this duck, here seen modelling a delightful, reversible hoodie (received separately).
The duck sports a waterproof hat and, if prompted, will sing "Singin' in the Rain," dance and tap its foot in time to the music. And it's not some crack-addled fake duck voice, either. It's possibly actually Gene Kelly or whoever sings "Singin' in the Rain." I'm sure you people know.
Here is the duck on one foot...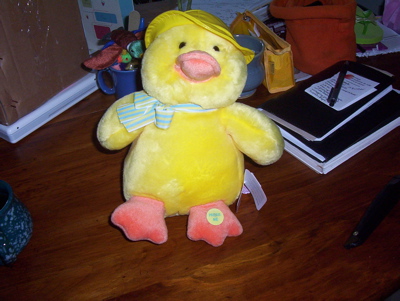 ...and shifting its weight to the other foot...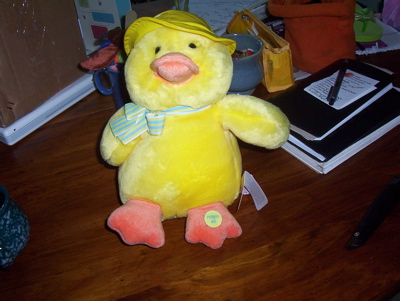 Fantastic!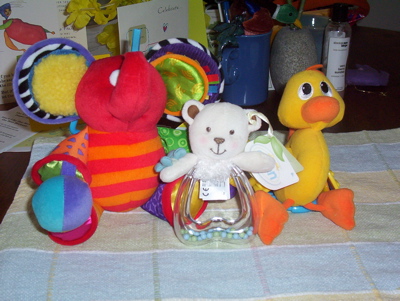 Here displayed are Eli the elephant, whose ears rustle and whose backside jingles with developmental possibilities, the smiley sprite rattle who just seems so darn friendly, and the most terrified duck I've ever seen. It's okay, duck! There are LOTS of other ducks in this house to keep you company. Oh god, are there ever a lot of other ducks in this house.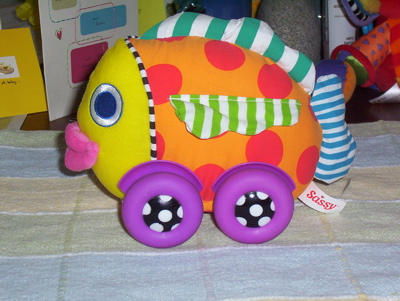 Plus, one fish on wheels.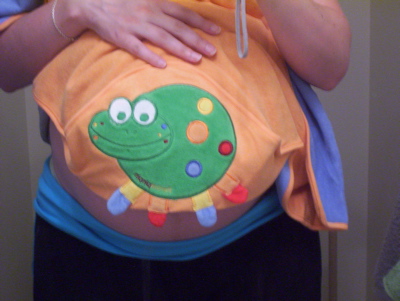 And one delightfully odd hooded towel, seen here over the object it will soon dry off.
Thanks for participating! And stay tuned as babbywatch 2006 continues. back in blog?